Capitol Hill Aikikai
Our Instructors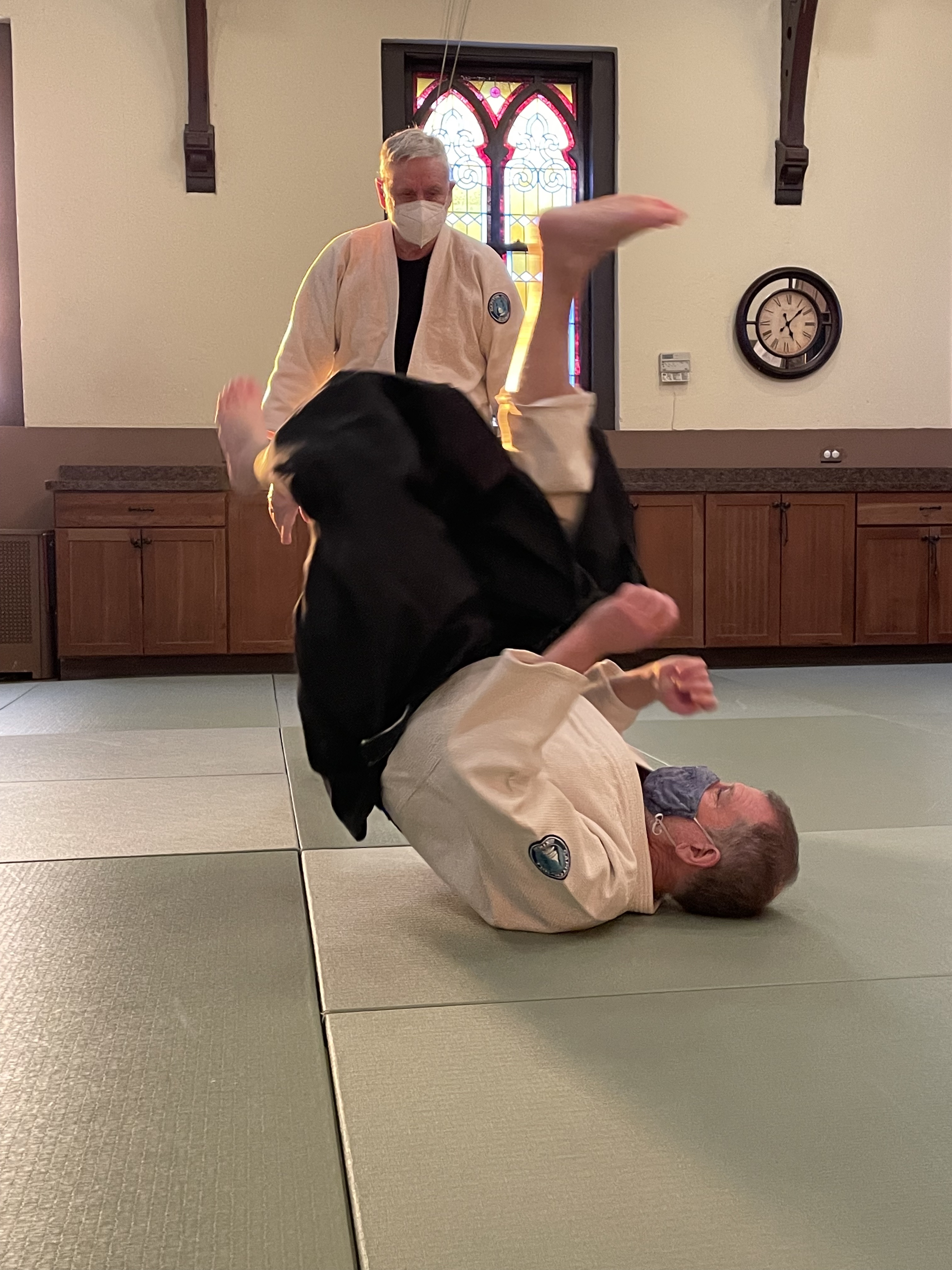 Michael Martin Sensei
 (6th degree black belt, USAF Shidoin)
I started practicing Aikido in the spring of 1987. Although I had completed my doctoral dissertation in economics in the previous summer, I found myself working in a wine and beer store in Northampton, Massachusetts, hoping to find an academic job by autumn. One day after work, I stopped by Valley Aikido, where the late Paul Sylvain Sensei was the instructor, and watched a class.
I was mesmerized by what I saw. It was like a beautiful moving meditation, as well as a very efficient martial art, at the same time. The next day, and almost every day thereafter, I went to Aikido class and trained under Sylvain Sensei, and his senior student at the time, Larry Levitt Sensei, who were very patient with me.
Due to the circumstance of my professional career, I have had the opportunity to live in Hong Kong, Japan, and various parts of the United States. As a result, my Aikido training has been rather eclectic. I have been fortunate to have been taught by some of the best Aikido instructors in the world, such as the late Kanai Mitsunari Sensei, the late Ken Cottier Sensei, and Clyde Takeguchi Sensei. I have also been honored to serve as uke for other famous Aikido masters at many seminars. While this has been challenging at times, I feel like I have personally benefitted from my experiences with different views of Aikido.
In November 2007, I started a new job at Congressional Research Service in the Capitol Hill district of downtown Washington, DC. Takeguchi Sensei had been encouraging his senior students to start Aikido clubs, and I noticed a lack of martial arts in the Capitol Hill area. So, with Takeguchi Sensei's blessing, I started Capitol Hill Aikikai, named in part after the section of the city, but also out of respect to Capital Aikikai and Takeguchi Sensei.
During my wanderings as an Aikido student, I was fortunate to have some incredible instructors who showed great patience with me. Each of them had a different view of Aikido and pursued different aspects of Aikido. None of them demanded that I try to become a clone of their style or follow their specific path. As an Aikido instructor, I try to emulate them, and show my students the myriad aspects of Aikido that one can explore, depending on what one seeks in Aikido.
In addition, my instructors all shared one other important quality. All of them actively sought to continue to grow their Aikido and to become better people in the process. They taught me that valuable lesson, and I hope to share it with the students at Capitol Hill Aikikai, too.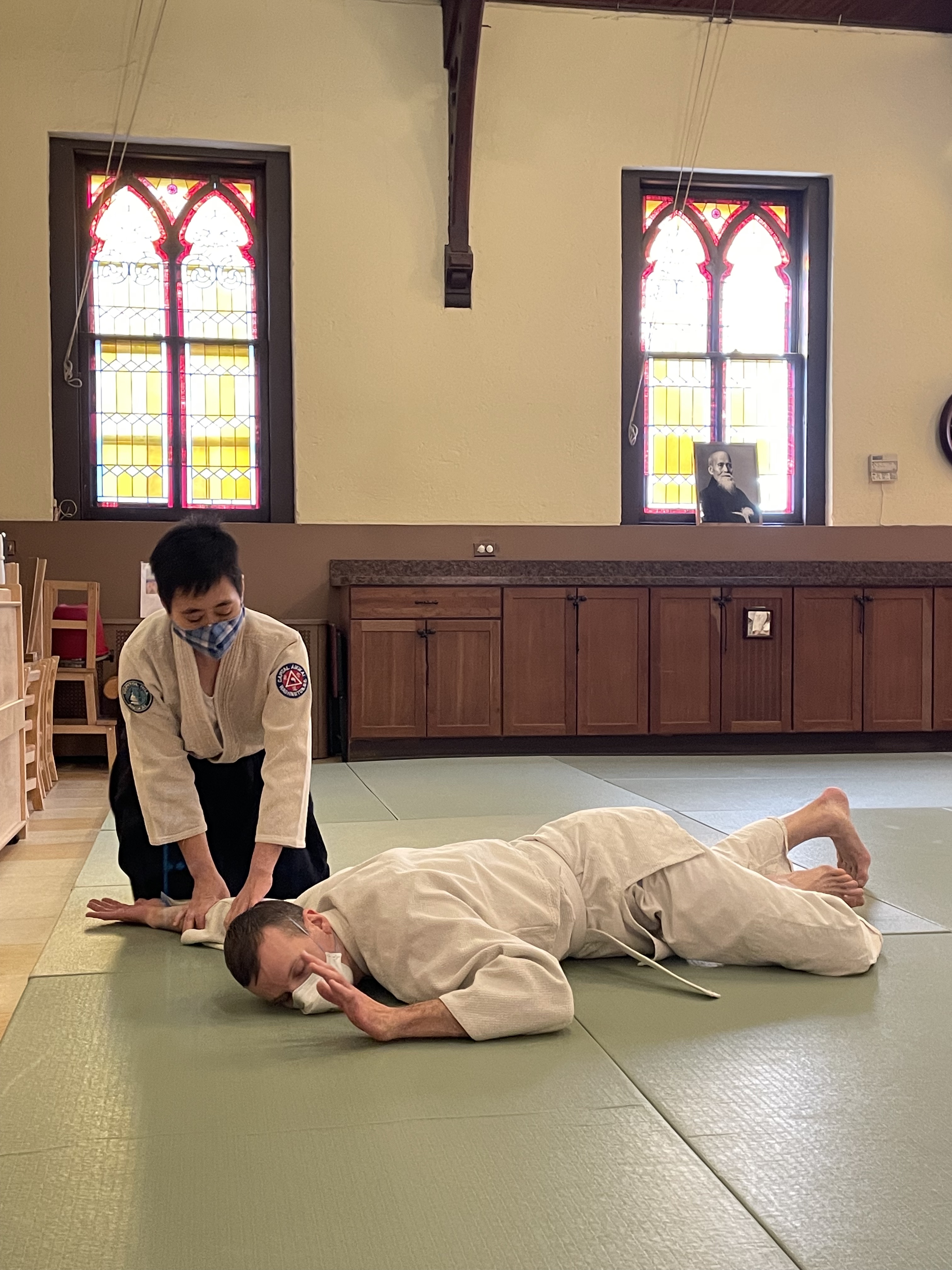 Meipo Martin Sensei
 (5th degree black belt, USAF Fukushidoin)
By some strange twist of fate, I ran into Aikido while I was in college in 1991. I was a Karate student and I had seen many different forms of Kung Fu. I thought I knew what martial arts were supposed to be like. Yet, what I saw in that Aikido class had me totally blown away. It was swift and graceful, yet strong and compelling. I was intrigued. After watching for about ten minutes, I took off my shoes to give it a try. That was the beginning of my Aikido journey, and it changed the trajectory of my life forever.
I grew up in a tough neighborhood in Hong Kong. Fist fights against bullies in school was a constant feature in my early life. What I learnt very quickly was that, whether you win or lose, having to fight constantly hurts — both physically and emotionally. Plus, winning one fight just brings more fights. When will it ever end?
I love teaching Aikido -- in particular, to women. I have taught women's self-defense classes. I have also given the series in a women's shelter to victims of domestic violence. There is a distinctive look in their eyes that is unforgettable. When people are scared, they carry themselves a certain way, which acts like a bully-magnet. The more they are bullied, the more they behave that way . . . Nobody should have to live in fear. Through Aikido, I want to break that cycle. Unlike the common misconception of martial arts, Aikido is about assertion rather than aggression, and its principles are very applicable in everyday life. I want our students to see that they have options, and that they are much stronger than they thought. They do not have to go through the same thing I did as a child.
I am very grateful that the late Hiroaki Izumi Sensei and the late Kenneth Cottier Sensei of the Hong Kong Aikido Association set me on a good path with solid foundation. When I moved to the US in 1999, Clyde Takeguchi Sensei of Capital Aikikai kindly took me in as his student. Not only did these amazing teachers teach me Aikido, but they also showed me love, patience and compassion. Having benefitted tremendously from their teaching, I hope to give forward to our students, so that we all continue to grow and develop into better, stronger and happier people.